By- Suzie-Q @ 11:30 AM MST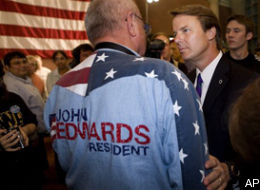 What could turn out to be the most critical comment of the campaign came from John Edwards in the last debate between the Democratic contenders — and the former senator from North Carolina may well claim the caucus-night victory that is the reward for delivering the right message at the right time.
Note:  Thanks to Swopa for asking what Edwards comment was!
This is what Edwards said: "take this country and democracy back."
Hat Tip to NYTexan for the chart!